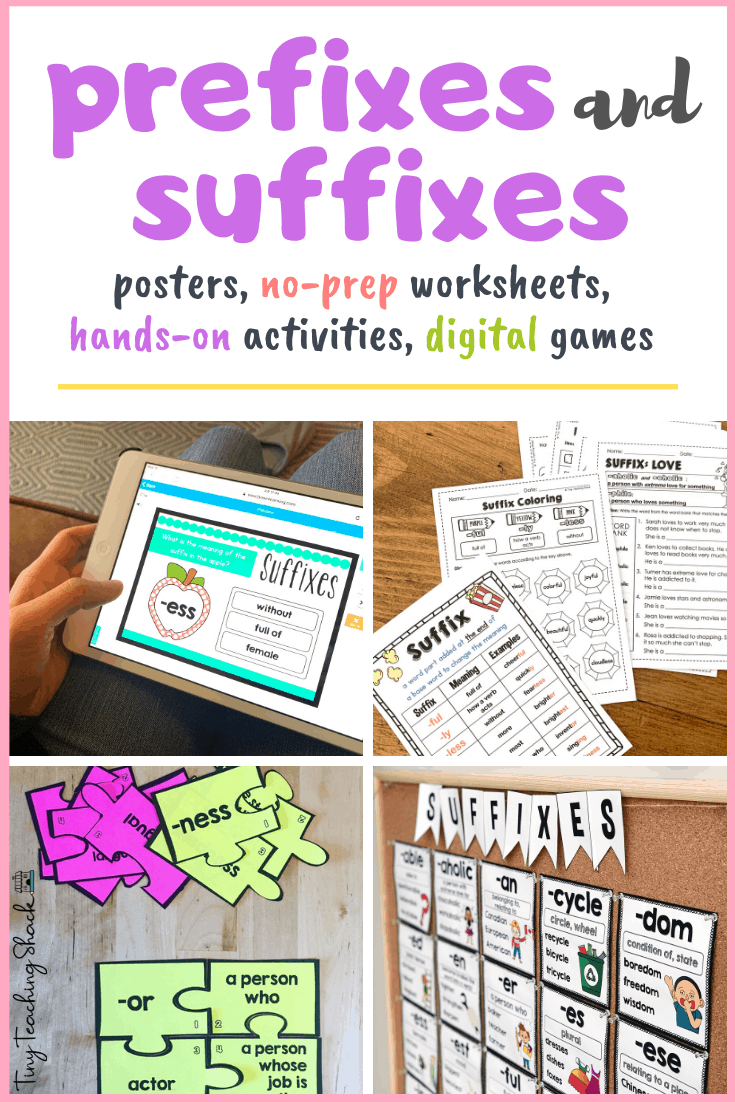 There are any number of tools we can use to help build vocabularies, but one of the most creative and fun ways is when we teach prefixes and suffixes! I love seeing little faces light-up as the children begin to see how prefixes, suffixes and root words are basically the building blocks of words, and they get very inventive when we move on to see how to use them 🙂 This blog post will give you plenty of prefixes and suffixes activities and worksheets to use with your students.
Hands On Prefixes and Suffixes Activities
Who is ready for hands on learning? Set your students up for success with some fun and engaging prefixes and suffixes activities! Your students will have fun putting the prefix and suffix puzzles together. These puzzles will reinforce their knowledge of prefixes and suffixes, their definitions, and everyday words that use them.
You can either laminate, cut the pieces and place them in a literacy center, or do the activity with the students in small groups. Another option is to print them small and have your students cut and paste them in their grammar notebook. That way, the puzzles belong to them forever and they can reference them throughout the school year!
One of the prefixes and suffixes activities included in this packet is a set of 24 cards called Task Cards. Punch a hole on the top left corner and bind the cards with a ring. Students can either work on these cards independently or as a fun class game: SCOOT. Scroll down to read more about how to play this game.
Base Words and Affixes Activities is a great way to bring a hands-on approach to learning. This activity will increase the students' vocabulary by helping them understand how to use prefixes and suffixes to decode a meaning.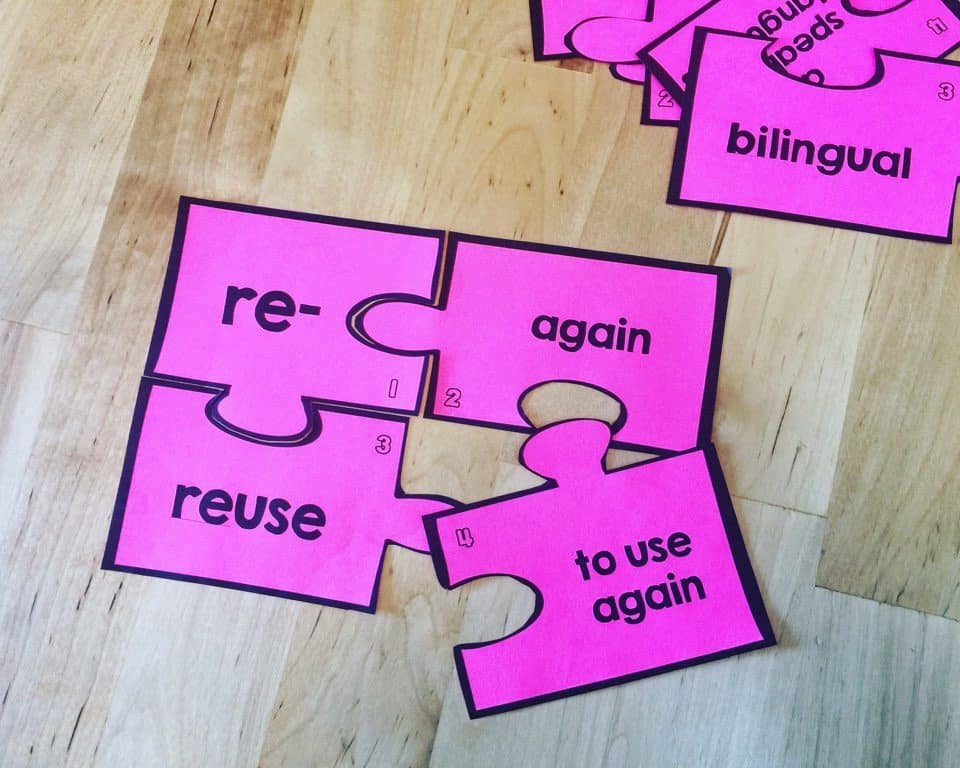 Prefix Puzzles:
Put four puzzle pieces together for each prefix. The complete puzzle should have the correct prefix, definition, example words that use the prefix, and the definition of the example word. These puzzles give students an opportunity to work with a variety of prefixes.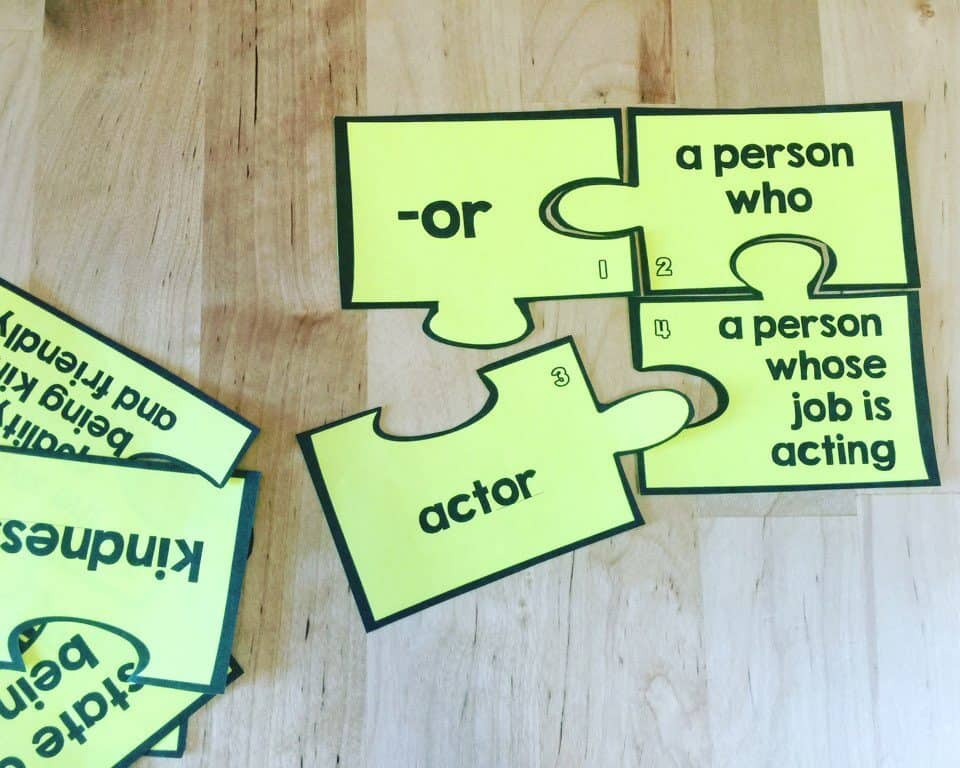 Suffix Puzzles:
Put four puzzle pieces together for each suffix. The complete puzzle should have the correct suffix, its definition, an example word that uses the suffix, and the definition of the example word.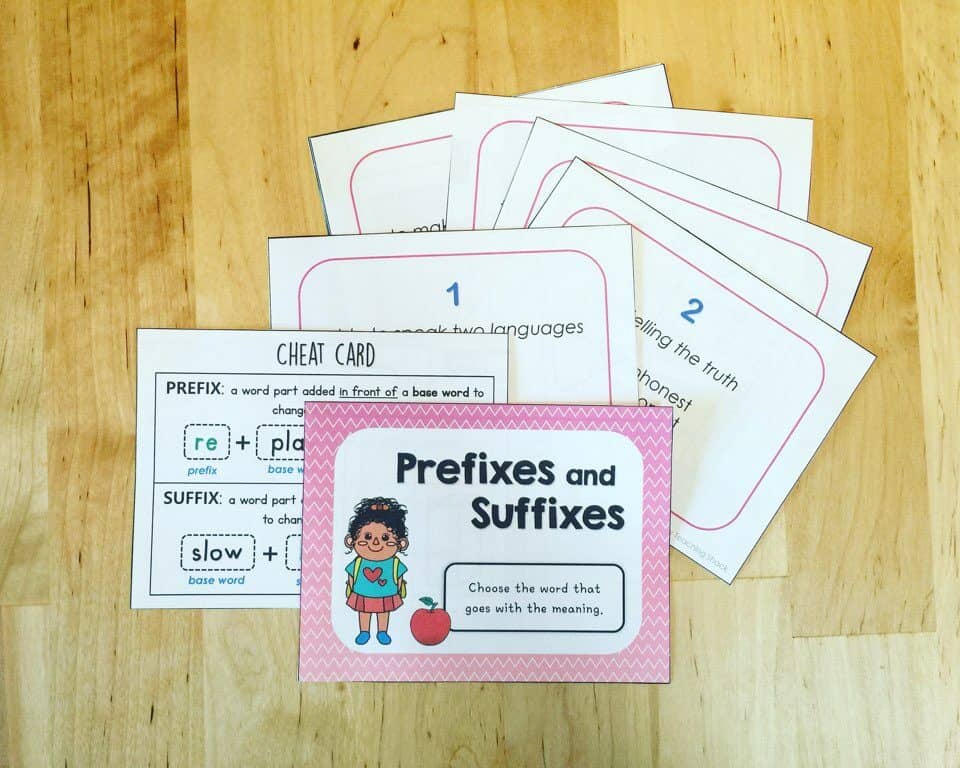 Prefixes and Suffixes Activities – Task Cards:
When teaching prefixes and suffixes you want to give students ample opportunity to practice and these task cards are PERFECT for practice. Students can have independent or partner work time to complete these task cards and write their answers on the recording sheets (included), or you can get them up and moving around the room by playing the game of SCOOT. Your students will have so much fun moving around the classroom while learning and creating different words.
How do you play SCOOT?
Place a card on each table (or on the floor if you don't have individual tables).
Give students a recording sheet and station them in front of each card.
Start the game.
Say 'Scoot!' to get the students to shimmy to the next card.
Play until desired or until everyone has gone around the room.
GET HANDS-ON BASE WORDS AND AFFIXES ACTIVITIES
Prefix and Suffix Posters
Looking for a fun way to spice up your bulletin board in a meaningful manner? Try my prefix and suffix posters which will give your students wonderful visuals to be able to reference in class. These posters were designed to help build vocabulary and make your students better readers and writers. You can either print the posters in color or black and white, or simply print out the reference chart to place in the literacy center or in their grammar notebooks! The best thing about these posters is that students can quickly check an anchor chart as a reference while completing prefixes and suffixes activities.
Prefix and Suffix Kid-Friendly Worksheets
Giving students different ways to show their learning of different literacy skills is important. These no-prep prefixes and suffixes activities and printable worksheets are perfect to teach the concept of prefixes and suffixes to young learners. These prefixes and suffixes activities worksheets were made following the Common Core Language first and second grade standards, but they have been proven to be successful with ESOL students too.
clear directions
easy to understand
age appropriate
various options
engaging
The first grade packet focuses on word parts: base words and affixes, both prefixes and suffixes at the most basic level. There are two packets for second grade, one specifically for prefixes and the other for suffixes. The reason why I have two separate packets for second grade is because I wanted to go into a little more depth than the first grade packet.
All of my no-prep prefixes and suffixes activities and printables come with colorful posters that outline the definition and the focus topic (in this case, the most common prefixes and suffixes), plenty of practice pages, and answer keys.
GET 1ST GRADE BASE WORDS AND AFFIXES NO-PREP PRINTABLES (prefixes and suffixes)
GET 2ND GRADE PREFIXES NO-PREP PRINTABLES 
GET 2ND GRADE SUFFIXES NO-PREP PRINTABLES 
Prefixes and Suffixes Boom Cards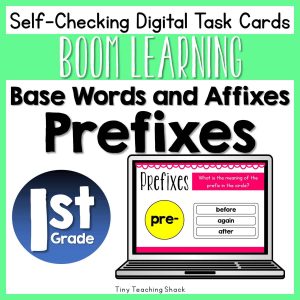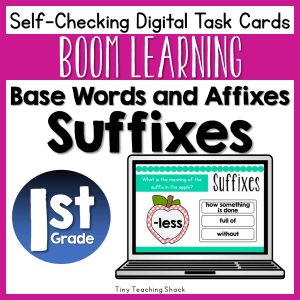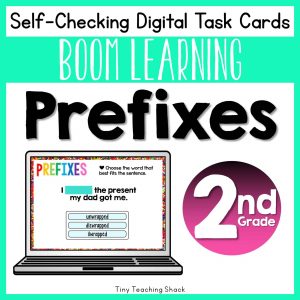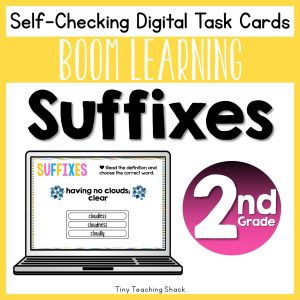 Who doesn't love digital task cards? Boom Cards provide a fantastic opportunity to play and learn at the same time. Play the video above or click on the images above to play the preview. These Boom Cards will help students understand the meaning of the prefix and suffix on each slide in an effective way. Check out my prefixes and suffixes activities in the form of Boom Cards below!
Interactive PowerPoint Lesson for Prefixes and Suffixes
Have you tried any of my Interactive PowerPoint Lessons? The lesson on base words and affixes will hook your students' attention with animated explanations and exercises. These PowerPoints will help students understand the meaning of the word based on its prefix or suffix. Play the short sample video on the right, and read other teachers' feedback here! These PowerPoint lessons are perfect to use to introduce the topic before students work on their prefixes and suffixes activities.
Check out this blog post about using these Interactive PowerPoints.