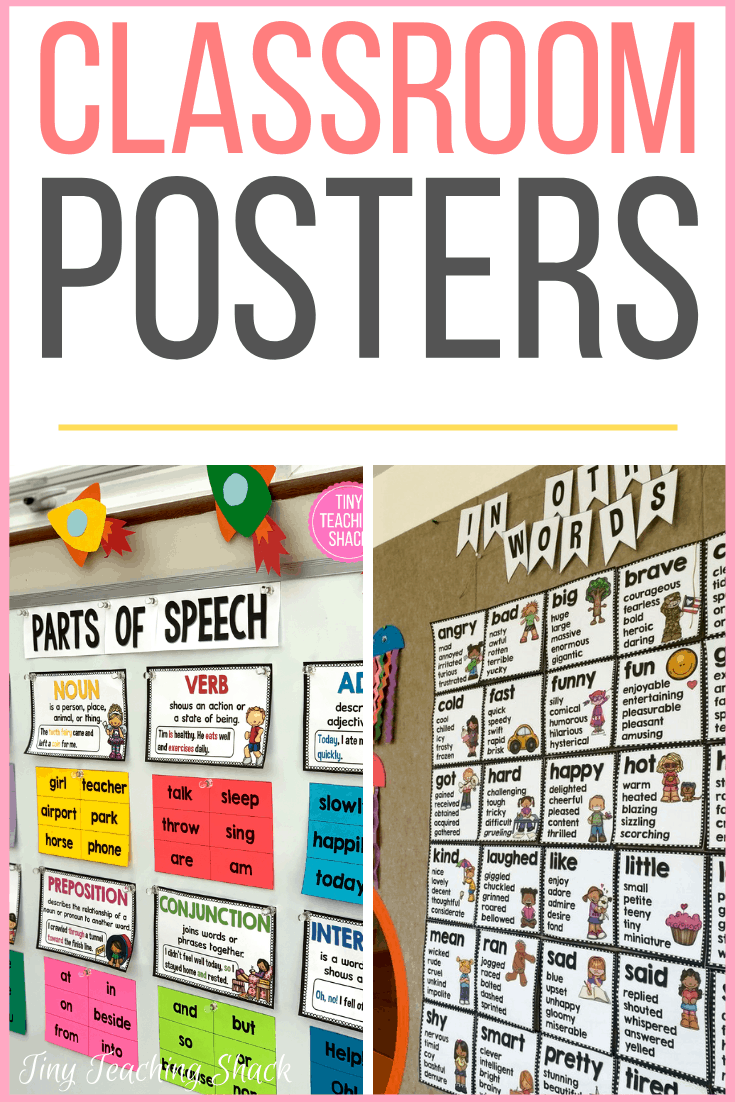 What kind of ELA and parts of speech posters or anchor charts do you have on your classroom walls? How do you use classroom decor in your classroom?
We all try to prepare the best learning environment for our students. We want to decorate our rooms to spark their learning interest, but not make it too overwhelming or cluttered. We do not want unnecessary decorations on the wall that could possibly distract our students' learning. We do want a set of grammar posters that students can use as a reference throughout the school year.
Nonetheless, we want to put up some engaging ELA and parts of speech posters on the walls that will encourage their desire to learn. Here are some different posters that you could start with!
Synonym Posters
I created these synonym posters to expand my kids' vocabulary and to spice up their writing. You can display them on the wall for your kids to look at as a reference, and they will surely brighten up your classroom too! I have a color and a black and white version. I have updated the file with a cover page for you to bind them into a book. Here are some of the classroom pictures that other teachers have kindly shared with me. I also have this set in Spanish!
Prefix and Suffix Posters

Understanding prefixes and suffixes is vital in increasing kids' vocabulary. Gain the attention of your students with these colorful posters that can be used as a reference. These educational posters will help your students determine the meaning of the new word formed when a known prefix or suffix is added to a root word. You can display them on the wall for your kids to look at as a reference or bind the pages into a book.
You can even reduce the size of the parts of speech posters and make them into an interactive notebook like the example below. An interactive notebook is a great way to have students interact with their learning.
Parts of Speech Posters
These colorful and fun parts of speech posters will surely brighten up your classroom. There are 8 posters included: nouns, verbs, adjectives, adverbs, conjunctions, prepositions, interjections, and pronouns. Each poster comes with 6 word cards that can be displayed together and example sentences for students to use as a reference. Your students will master the different parts of speech with these posters in your classroom.


Genre Posters
These colorful genre posters will be a great reference for your students to identify and understand different genres in literature. You can display them in your classroom library and your students will be able to refer back to them throughout the year. A black and white version is included for those of you who'd like to save ink. A title page is also included for those who'd like to bind the pages into a book.
Sight Word Cards
 This colorful set of sight words are great to use as flashcards or to display on a word wall. I used a different color background to represent each level: 
6. Nouns (orange)
Phonics Posters
You will find 105 different phonics posters in this packet. It includes cvc, cvce, cvcc, blends, digraphs, vowel teams, r-controlled, silent letters, trigraphs, and other sounds. These will be a great reference for your students. You can introduce different sounds throughout the year and display them on your classroom wall or bulletin board.
Transition Words


Are your students having difficulty connecting one idea to the next smoothly in their writing? Transition phrases and words help the reader progress from one important idea to the next and show the relationship between the main idea and the details. Your students will love using this eye-catching anchor chart set to improve their writing.