When it comes to increasing the essential skill of fluency, there are a multitude of tasks and reading comprehension printable worksheets out there that educators can use. Combining a whole bunch of them in a targeted approach is a highly effective phonics reading comprehension exercise for young readers. Some of my favorites are tasks related to reading comprehension strategies.
Silent Letters Focus Reading Comprehension Printable Worksheets
Let me introduce you to my Silent Letters Focus Reading comprehension activity to incorporate into your daily routines. It is a great way to grab your student's attention and will be a fun way to learn more about the quirks of our language no matter your students' grade level. My husband and I are forever debating 'herb' (US) vs 'herb' (UK)!
These phonics reading comprehension printable worksheets are also available as Boom Cards. The content is the same, but one is of course a printable format, and the other is digital. The good news is that both can be used for a literacy center, for group work, homework or even as a quick assessment for different levels.
No-Prep Reading Comprehension Printables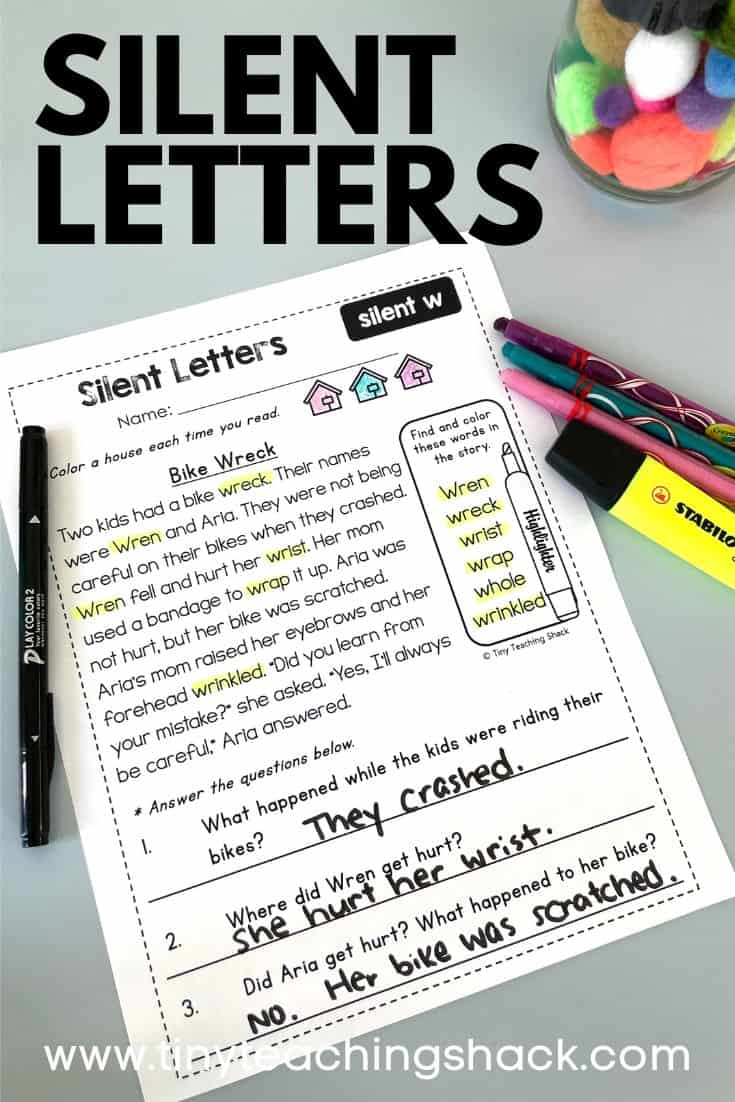 We first read the focus words in the box on the right, then find them in the passage and highlight them. We color the (house) picture on top after reading the passage each time. As the students become more familiar with the comprehension passages, they will notice their accuracy and fluency increase. Lastly, using my phonics reading comprehension printable worksheets, students will answer the reading comprehension questions at the bottom of the page.
❤ Focus Sounds:
silent b
silent k
silent w
silent h
silent l
This set is part of a larger Phonics Reading Comprehension Printable Worksheets set, so click here to read more about it!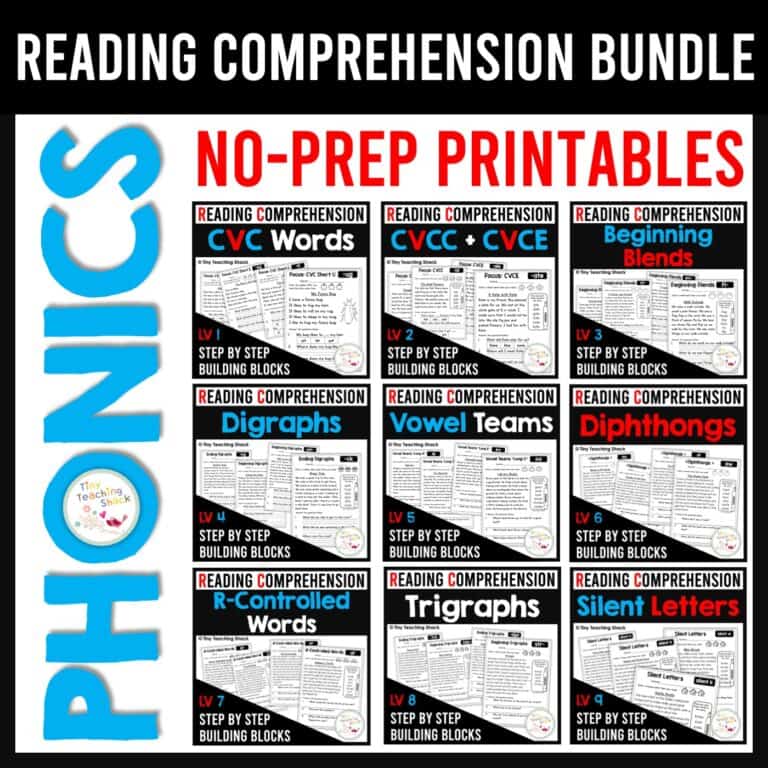 Check out the No-Prep Phonics Reading Comprehension Bundle!
Reading Comprehension Boom Cards
Reading comprehension printable worksheets work great, but I couldn't suppress my urge to make the Boom Card version too. The content is the same, but Boom Cards make the activity more interactive. Students will choose a focus sound to read the story and answer the questions. These are self checking task cards, and students will know if they got the answers right or wrong straight away. Full audio support is provided for those who need extra help, which is another exciting feature!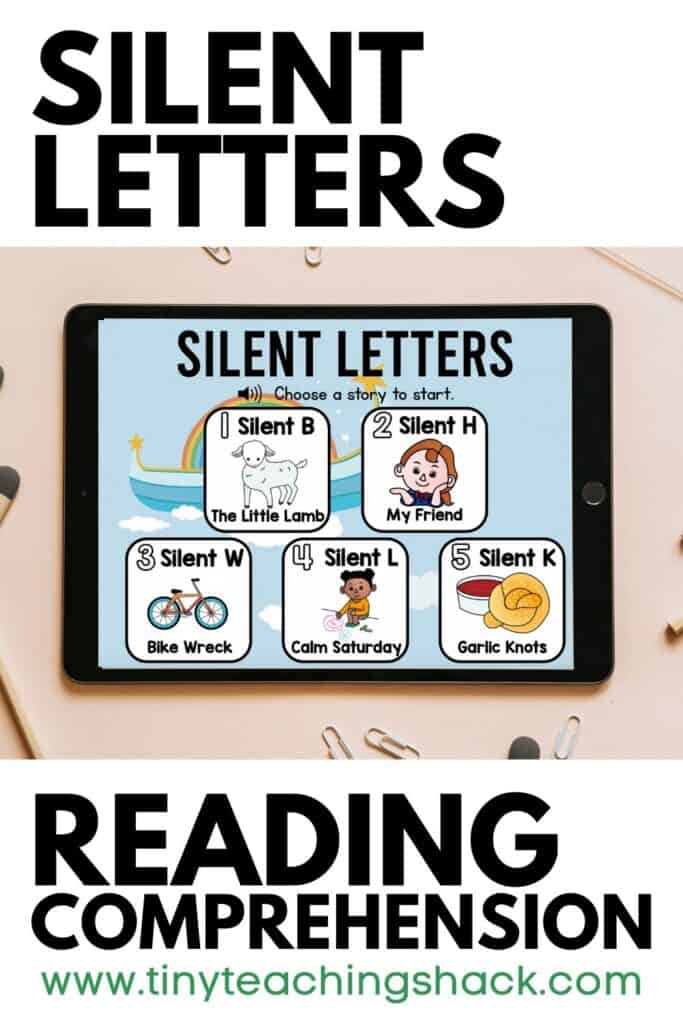 Boom Cards  are great for centers, small groups, whole groups, assessments, differentiation, homework, and distance learning. Most importantly, students absolutely enjoy playing Boom Cards! If you'd like to learn more about it click here, and you can find out how you can access a few great free Boom Cards set of mine. 🙂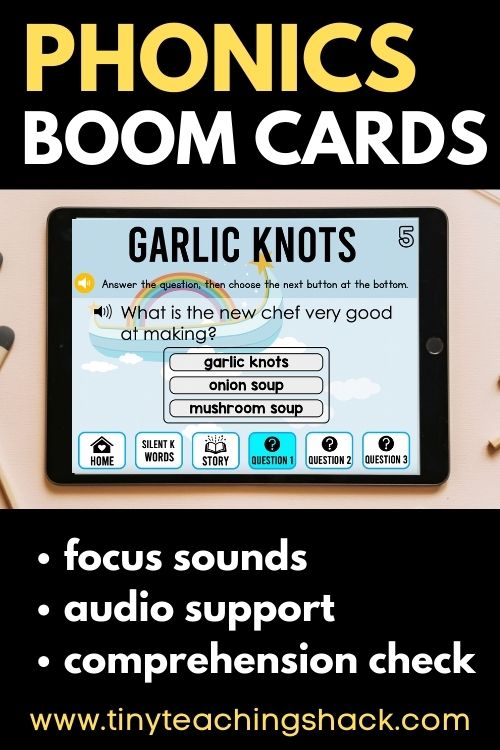 As I mentioned at the beginning, combining a multitude of activities is one of the most effective methods to increase fluency. You'll be pleased to know that this product with reading comprehension printable worksheets and boomcards is part of a larger bundle of activities, all of which can be used to aid and develop your students. I am sure you'll find them all educational, creative and fun!
Learn more about it here.
As always, you can save $$$ by getting the bundle. Let's face it: we all love a bargain, don't we?
Check out the entire set of Boom Card version!
That's all for now. Have a great day!