I have a very inquisitive little toddler, who has been showing interest in alphabet letters ever since I can remember. I have always tried to provide an environment she can thrive in by plastering posters around the house, playing with flash cards and letter magnets, and have come up with simple activities I learned from some amazing Instagram accounts.
Now, she is three and a half, she is ready for something a bit more challenging. I tried to use my alphabet bundle that has worked great with kindergarteners, but my daughter was clearly not ready to write or color at that level. I mean, she's only three after all, and doesn't even know how to hold a crayon properly yet! Hehe. So, I made a whole new line of alphabet activities that focus on fine motor skills which could even be used by preschool and pre-k children. 
They have indeed been tested by my three and a half year old, and apart from the hole punching activity, she was able to complete them at ease. Because she didn't have enough muscle power to punch a hole, we modified it by putting stickers or stamping on the letters. 🙂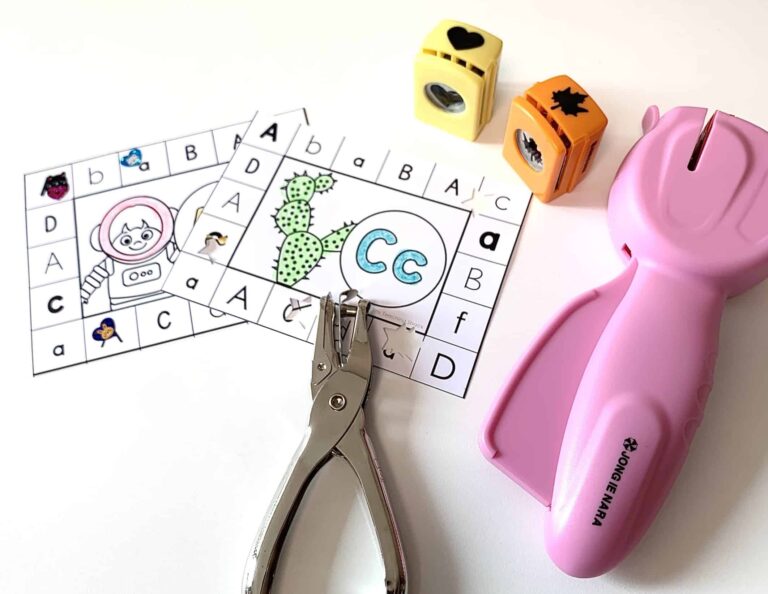 These activities are great to enhance letter recognition for young learners and develop their fine motor skills. You can get the individual packets or get the big bundle at a discount! 
6 Fun Ways to Explore Letters
Your students will have so much fun with Alphabet Fine Motor Skills | Letter Mats. They can use Play-Doh or any other clay material to shape the letter formation. You can get creative with the mats by using various manipulatives like blocks, Lego pieces, mini erasers, or pompom balls. You could even print it out for students to color, paint, or simply decorate with stickers. This is a great way to increase your students' letter recognition in a kid-friendly way. You can print this resource in color or black and white.
With Alphabet Fine Motor Skills | Super Simple Puzzles, students will have fun matching the capital letters with lowercase letters and practicing the beginning letter sounds. These puzzle pieces have very simple lines to be cut, making them efficient for teachers to prepare. You can print this resource in color or black and white.
Save by Getting the Bundle
If you are like me and would like to have multiple options to choose, you can get the bundle and save money!