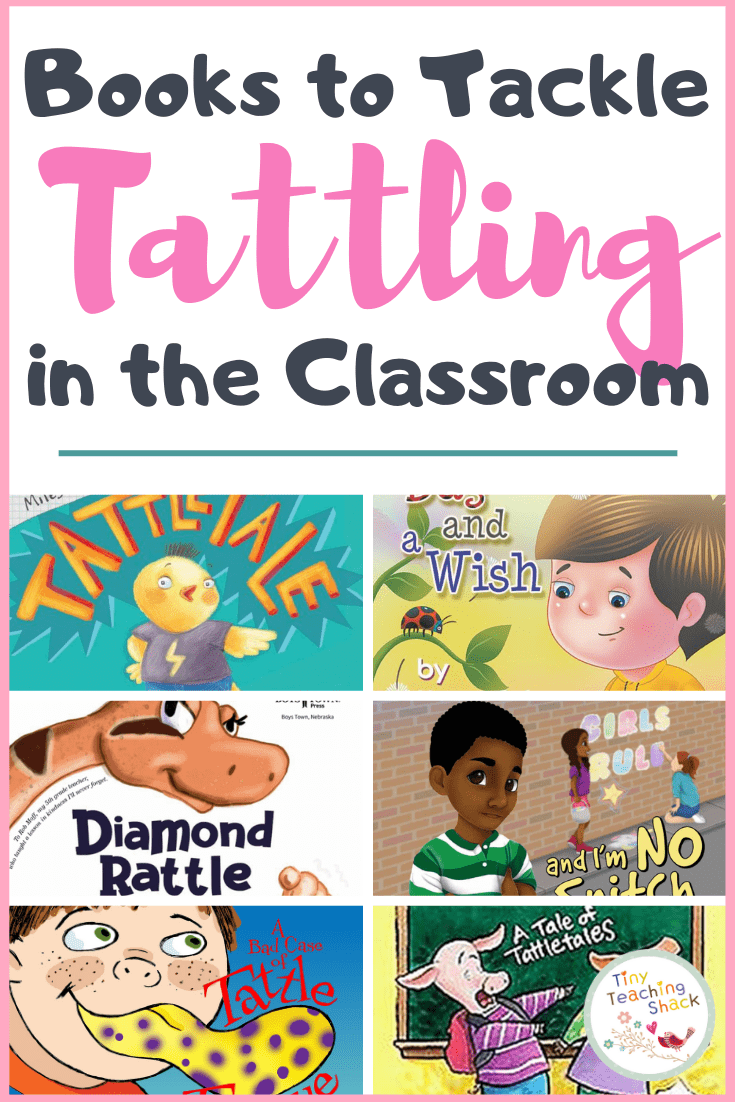 Despite the joys of our profession (and there are so many!), there are also so many things which can drain our energies and motivations in the classroom. One which comes up year after year, or so it seems, is the concept of tattle-telling. We don't want a class of students who tattle at every opportunity, but we also don't want our little ones to avoid notifying us about things we need to know urgently. So, how do we handle this? Read on and find out!
A Bad Case of Tattle Tongue
A Bad Case of Tattle Tongue by Julia Cook
We've all had students like little Josh: the child who tattles way too much! You'll hear him tattling on his friends, his family and his pets. He wakes up one night, and something has happened to his tongue. Is this the lesson he is going to need? This wonderful story is great for parents and children alike and teaches us 'The Tattle Rules' we (and Josh) need!
Miles McHale, Tattletale by Christianne Jones
Miles McHale is a tattletale (I don't know about you, but I just love the alliteration in the title!). This is another story which will teach students the right time to speak-up about another person's behavior. In Miles McHale's case, he must learn soon, or he'll be doomed to lose The Tattle Battle, not get the extra recess on offer, and will be compelled to tattle forever.
A Bug and A Wish by Karen Scheuer
"It bugs me when you cut in line, I wish you would stop doing it!". Karen Scheuer's wonderful story has spawned a hundred classroom activities designed to aid in conflict resolution in the classroom. In the story, Tyler is encouraged by Danae to give "a bug and a wish" to boys that are teasing him. He soon learns the true meaning of her advice and finds solutions to his problems.
Don't Squeal Unless It's a Big Deal
Don't Squeal Unless It's a Big Deal by Jeanie Franz Ransom
Jeanie Franz Ransom's entertaining story about when "squealing" is the right thing to do, and when it is just tattling. The tattling in this classroom makes everyone frustrated and lack trust in each other. Our teacher turns into a hero (when are we not?!) in this story, and instead of merely managing the situation, helps the children understand the underlying feelings. The story focuses on mutual problem solving among our young charges. This one is my favorite and it is well worth a read!
Diamond Rattle Loves to Tatttle
Diamond Rattle Loves to Tattle by Ashley Bartey
Diamond Rattle, as you might guess from the name, is a snake… a snake who loves to slither up to her teacher and tattle on all of her friends. She soon will realize that this is affecting her friendships, causing her to feel sad and lonely. Fortunately, a helpful Miss Crow is on hand to help her learn how to solve problems, and what needs to be reported and what can be dealt with another way. Can Diamond Rattle change her behavior and control her tendencies? This charming story, replete with fantastic illustrations by Brian Martin, addresses the five key elements of social emotional learning (SEL). 
My Name's Sammy and I'm No Snitch!
My Name's Sammy and I'm No Snitch by Jeff Tucker
Blabbermouth. Tattletale. Snitch. Whatever you want to call it, Sammy is determined to show you he's not one. He observes all kinds of behavior which he really should be sharing with an adult but chooses not to. He's proud not to be a snitch. When things go up a level, and he witnesses a good friend being targeted, can he remain silent? This story approaches the topic from a different perspective, but the outcomes are the same: a chance for adults and children alike to embrace the differences in when to report, and when to deal with things another way. 
There's no doubt that this can be a challenging topic for us to share, but one which provides us with so many opportunities to be creative in our reading and related classroom activities. All of my activities are aimed to help your students understand the difference between tattling and reporting in a fun and memorable way.
At the start of lockdown, I taught my daughter and nieces (oh, they tattle constantly too!) about tattling at home using the concept of having both tattle and compliment jars. Tattle jars can be used for students to write down things which might be bugging them, giving them an outlet to get things off their chests. Conversely, it creates a more positive atmosphere to also have a compliment jar for them to write little notes in. You can use my labels here as a freebie to get you started!
You all know by now how much I simply love Boom Cards. Like my other activities, your students will go through different scenarios and guee what is tattling and what is reporting and will build their understanding of the concept as they do. If they're anything like mine were, they'll be asking for more by the end.
I'd love to hear more about how you approach this topic, and if you'd be able to recommend any more great stories along the same themes.
Thanks for reading. Have a great day!