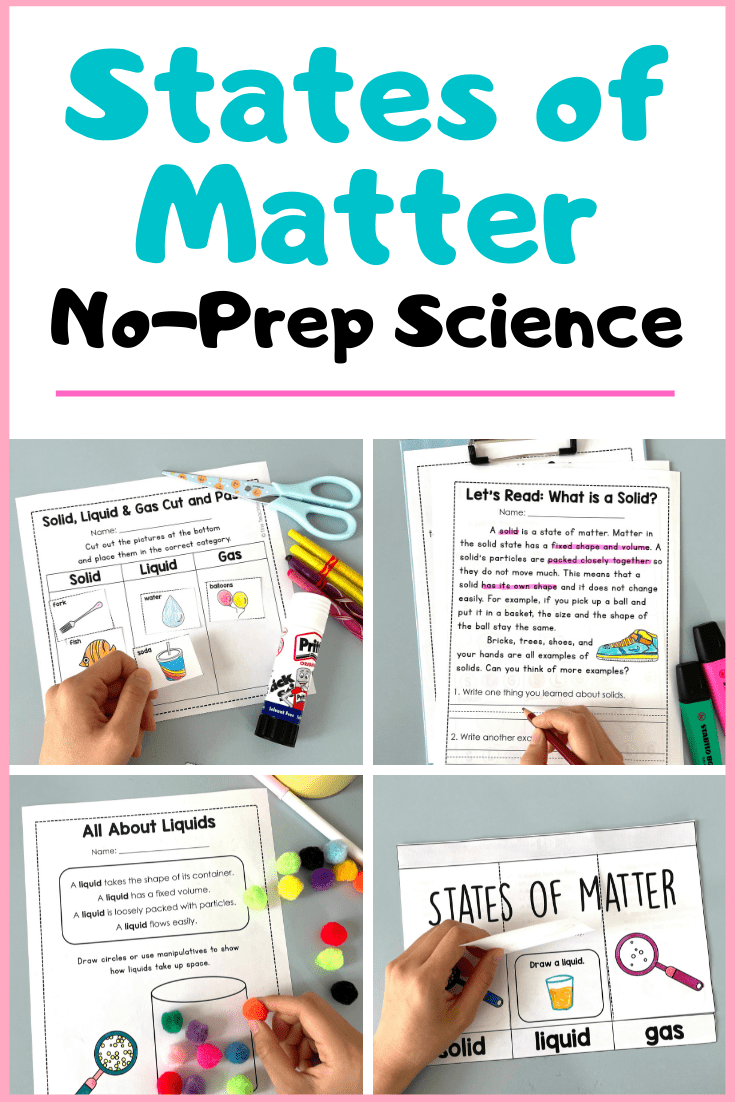 Do you know what I just love? All things science! Call me a 'science nerd' (!) if you will, but back in my school days, I would be so excited to be in the lab doing all sorts of weird and wonderful things. I don't think it is ever too soon to try and inspire young students to understand more about the sciences, but I do have a favorite way to begin: by teaching about states of matter. There are dozens of things easily at hand in a typical classroom to start teaching these concepts to the little ones, but to help you on your way, take a look at my States of Matter Worksheets No-Prep Printables.
What's included in the States of Matter Worksheet?
My Science Book: States of Matter cover page
Solid, liquid, and gas pre-assessment
States of matter and their compositions (3 pages)
Identifying different states of matter (3 pages)
States of matter facts fill in the blanks (3 pages)
Solid, liquid, and gas cut and paste (2 pages
Reading passages (4 pages)
States of matter word search (1 page)
States of matter flip book (2 pages)
Assessment/Quiz (2 pages)
Answer Keys
Hands on Learning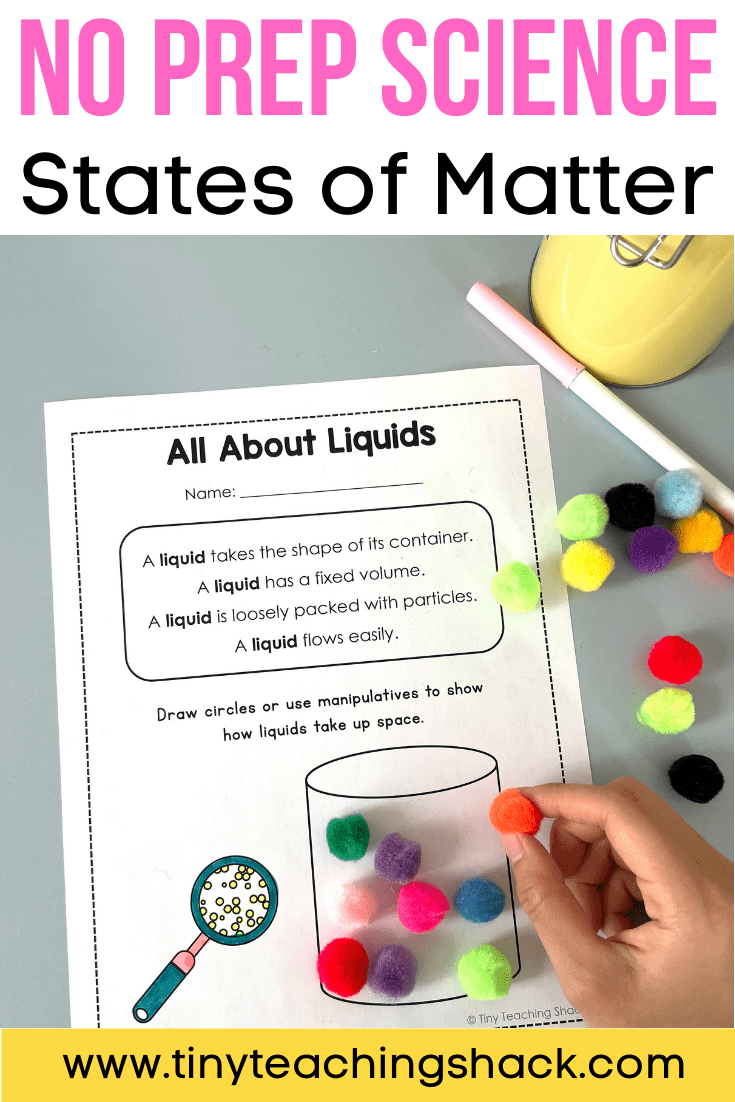 Students can use small manipulatives like pom pom balls, pebbles, cereal, pebbles, or even stickers to show how different states of matter take up space. In the picture above, pom pom balls represent the particles, and because it is a liquid, they are loosely packed and are able to flow around each other.
Reading Comprehension Pages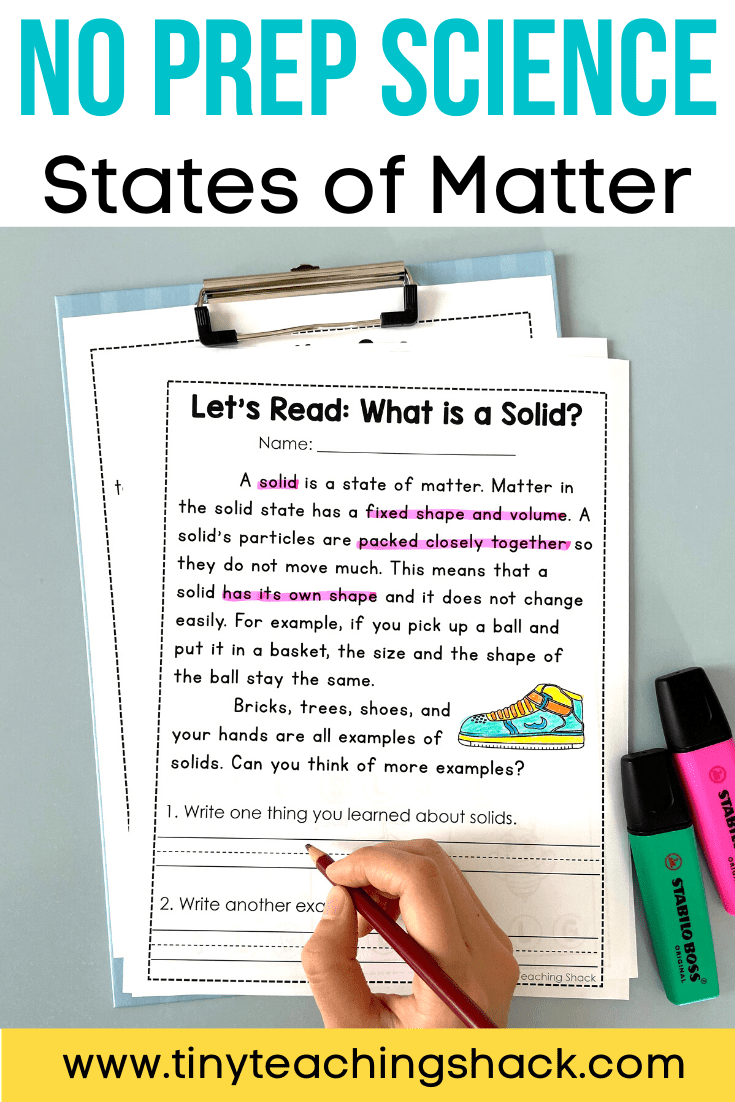 Students will also have the opportunity to read about matter and each state of matter in more detail with these states of matter activities. They can read, highlight interesting points, and answer the questions at the bottom of the pages. There's even a spot for some coloring in too!
Identifying Solid, Liquid, and Gas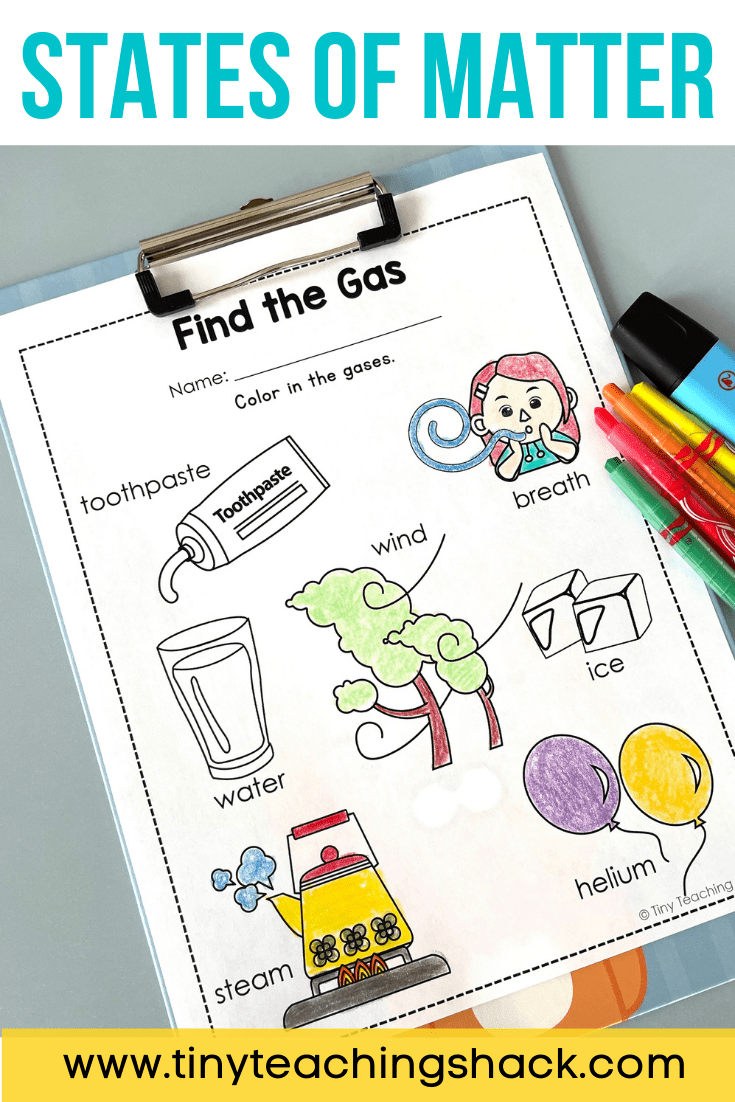 Students always love to mix doodling and coloring with different subjects. I made sure to include several pages where students will identify the states of matter in real life situations. You can expand on this in real time in the classroom too, identifying other items in different states.
Cut and Paste Printables Science Activity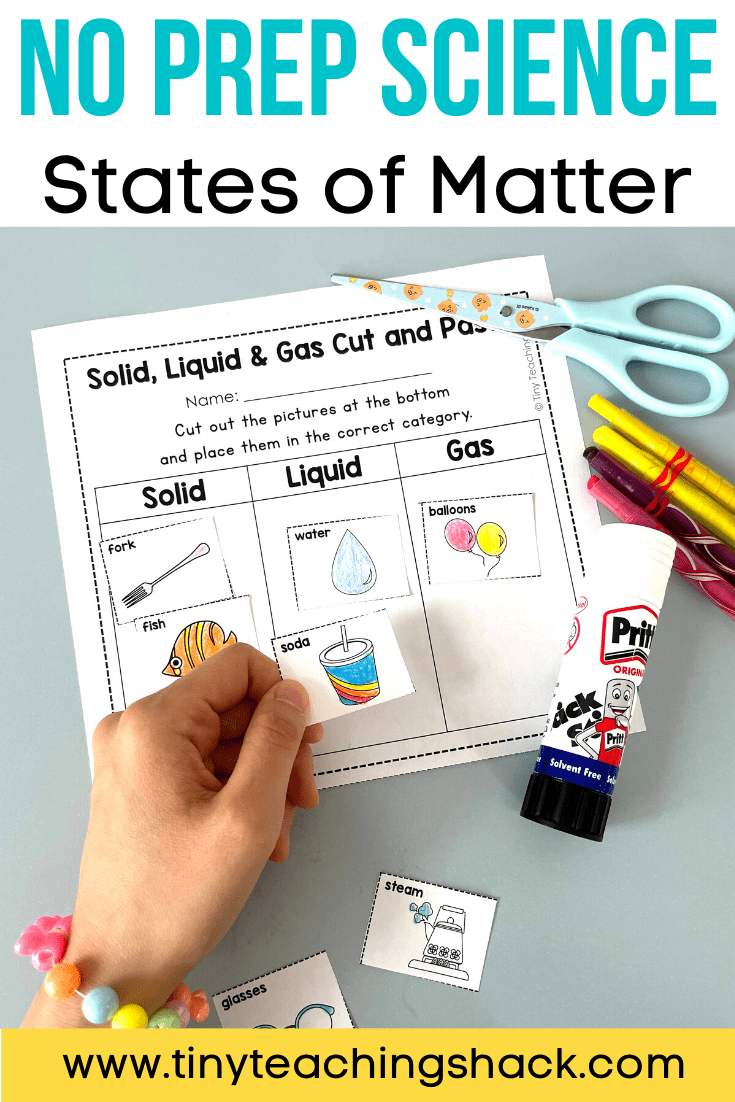 Who doesn't love cut and paste science lessons? Students can further hone their fine motor skills by coloring, cutting, and gluing whilst learning all about solids, liquids, and gases.
Make a Flip Book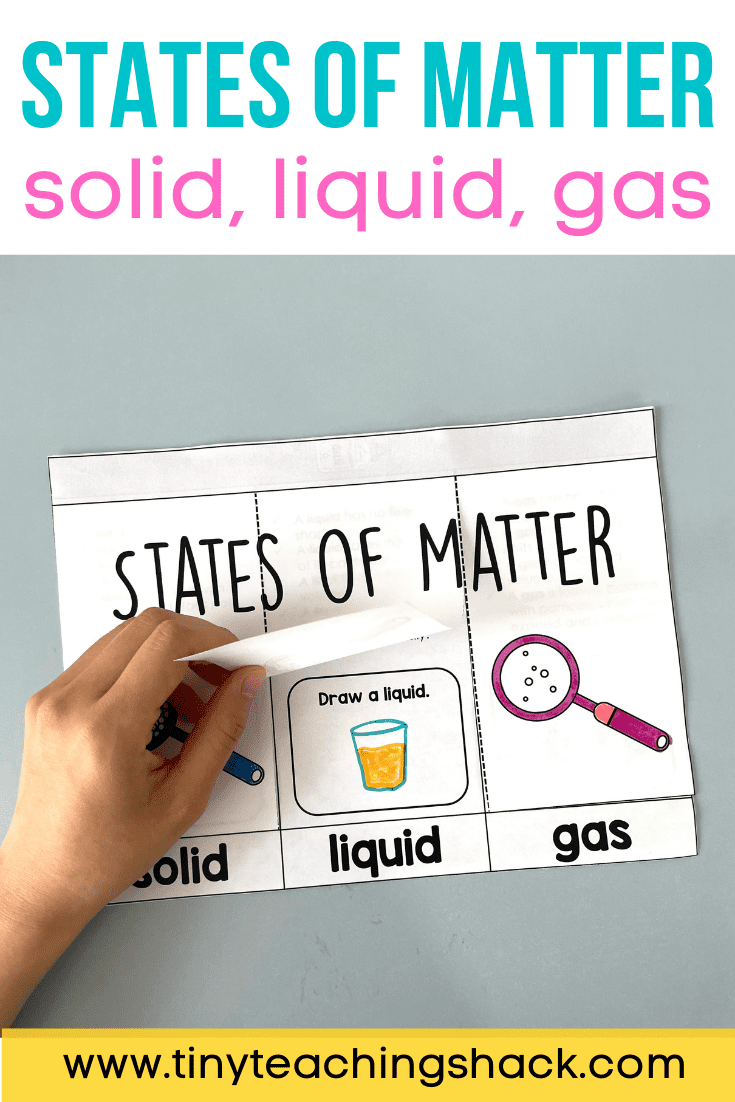 I love including a simple flip book with each science unit. They're super helpful to briefly summarize the whole packet. It brings everything we learned together into a little flip book, so it is great for a quick review!
Mini Quiz and Assessment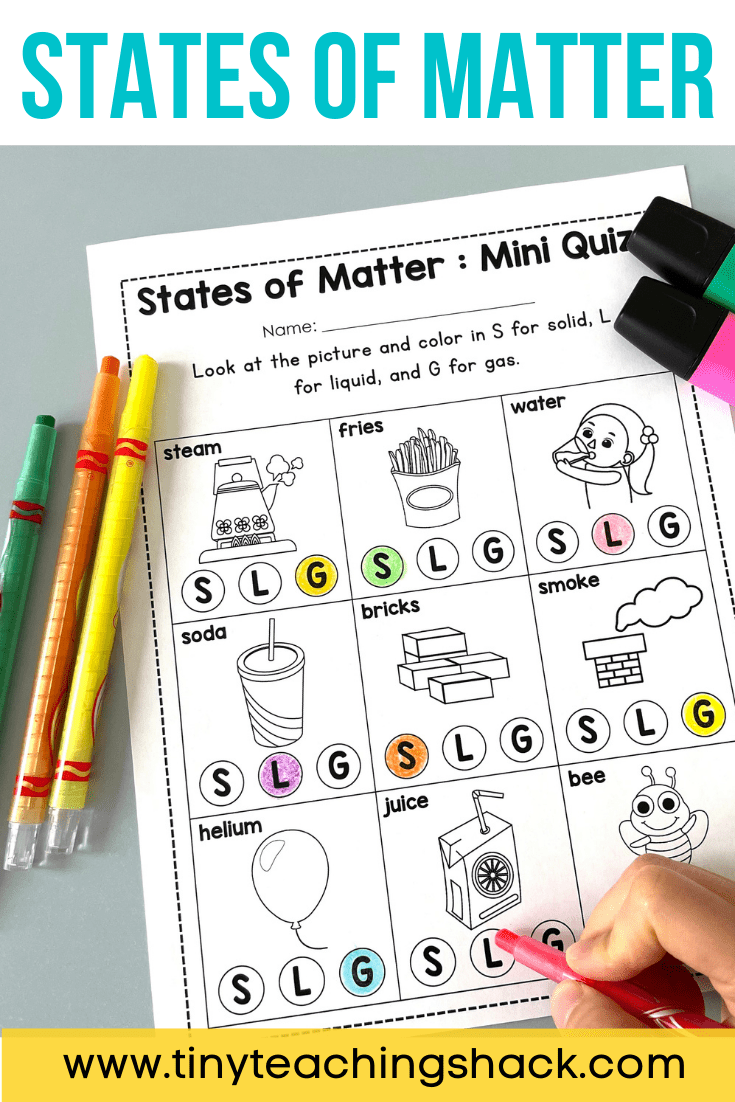 I also added two mini quizzes / assessment pages at the end of this packet. Students will enjoy coloring the correct letters for each state, bringing the page to life with color with this great resource.
GET STATES OF MATTER NO-PREP PRINTABLES
More No-Prep Elementary Science Activities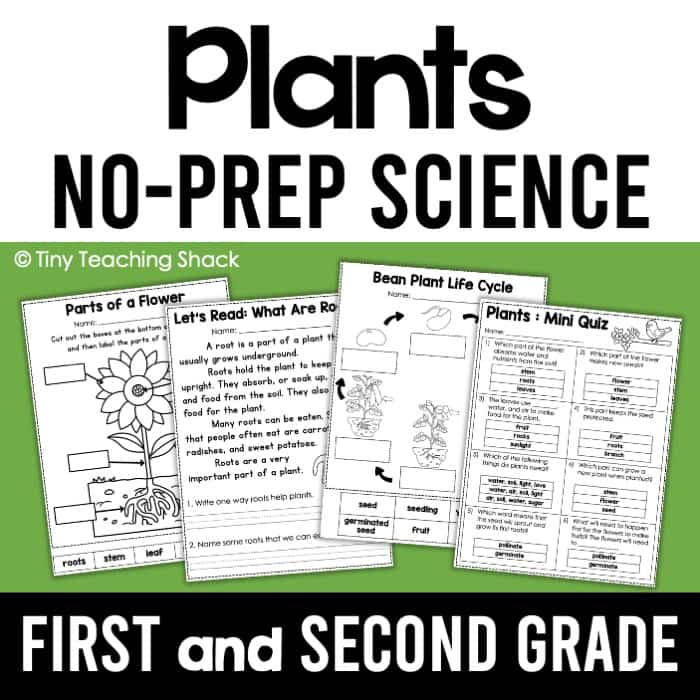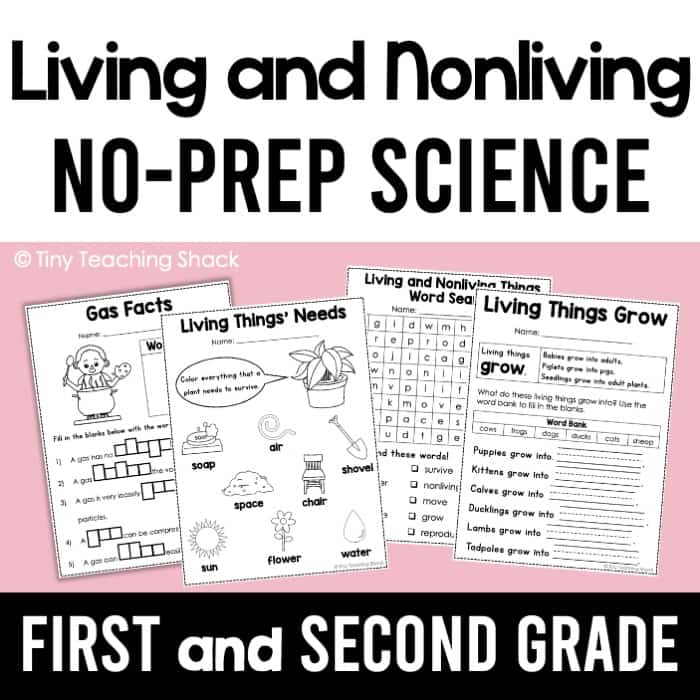 Don't forget to check out my other no-prep science printables! If you ever want to request a topic for the No-Prep Science Printables for first and second grade, I will do my best to create an activity worksheet. 🙂
Click HERE to fill out a quick form.
Have a wonderful day!