How do you have your students soak in the information that you teach in a whole group lesson and practice it in school and at home? I always struggled to find practice pages to supplement our language arts lessons, so I've created printables that target each 1st grade Common Core language standard. There are more than 360 pages of worksheets with answer keys and posters to go with twenty different ELA topics prevalent in first grade language curriculum.
What 1st Grade Common Core topics are covered?
Nouns (common, proper, possessive)
Singular and Plural Nouns (-s, -es, and -ies endings)
Subject-Verb Agreement (with singular and plural nouns)
Pronouns (personal, possessive, indefinite)
Verbs (past, present, future)
Adjectives
Conjunctions (and, but, or, so, because)
Determiners (articles and demonstratives)
Prepositions
Types of Complete Sentences
Capitalization (date, first letter of a sentence, names of people, pronoun 'I')
Commas in dates and series
Homophones
Multiple Meaning Words
Synonyms and Antonyms
Base Words (Root Words) and Affixes (prefixes and suffixes)
Inflectional Endings
Shades of Meaning
Sort into Categories
ABC Order
Digital Version Available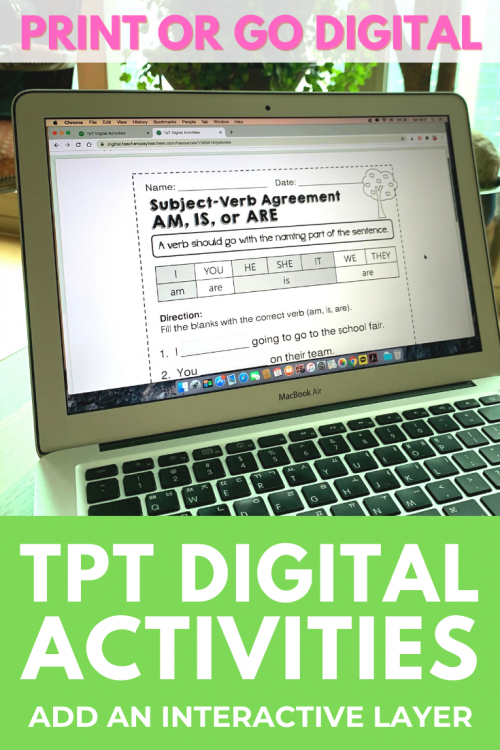 TPT Digital Activities allows you to use selected PDF resources as digital activities that students can complete on a device for online learning. You can simply add notes and interactive layer like text boxes, then assign to students using Google Classroom. Here are some FAQ below!
What if I have already bought a PDF version from your store before? 
You won't need to to purchase a separate digital version. All you have to do is go to My Purchases and open TPT Digital Activity of that particular resource.
How do I know which resources are digital?
Look for the Digital logo (shown below) in order to identify them.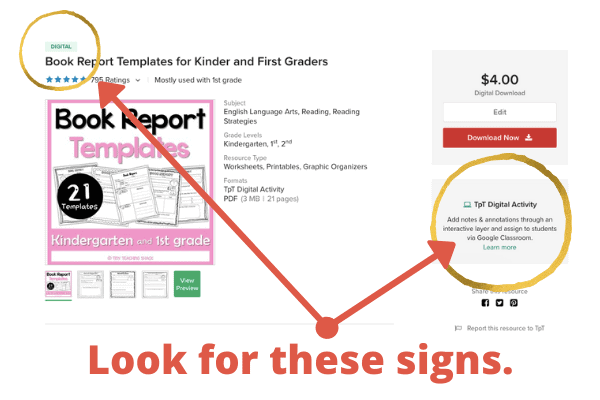 Where can I learn more about this feautre?
If you have not used this feature yet, and would like to learn more, click here. This should help you understand everything from making the PDFS interactive and assigning to students on Google, to reviewing students' work and providing feedback.
Is there a free interactive tutorial?
Yes, click here.
When you buy the 1st grade Common Core ELA printables, you will now have access to both my PDF file as well as the TPT Digital Activity. I hope, like me, you're able to embrace and enjoy this technology too!
Free Grammar Videos
Are they Common Core Aligned?
Yes, the topics listed above are aligned with 1st grade Common Core Language standards.
The packets cover a wide range of 1st grade Common Core ELA subjects which mainly focus on improving grammar and building vocabulary. Whether your school follows Common Core state standards or not, you will find a plethora of valuable activity sheets for your students. These were made with 1st grade standards in mind, but they can be used for advanced kindergarteners or for second graders as reinforcement! 🙂
Below are some examples of my students' work. There are anchor chart(s) included in each packet that you can use to introduce the concepts. Once the subject has been covered, you can place the anchor chart(s) at the literacy center so that your students can refer to them when working on these worksheets or related activities. You could pair them up with my hands-on learning grammar activities or Boom Cards if you have a digital classroom.
Example Work
Posters (Anchor Chart Ideas)
I was contacted by several teachers asking if they could just get the posters, so I put them up in my TPT store. Students can glue these into their grammar notebook, or you can laminate and display them in a grammar/literacy center for your students to use as reference. These can also be handy when you want to create your own anchor charts and you're just trying to gather some ideas about the 1st grade Common Core language standards.

GET THE POSTERS / ANCHOR CHARTS

Remember, the posters are already included in the printable packets, so only get these if you do NOT want the printables but JUST want the posters.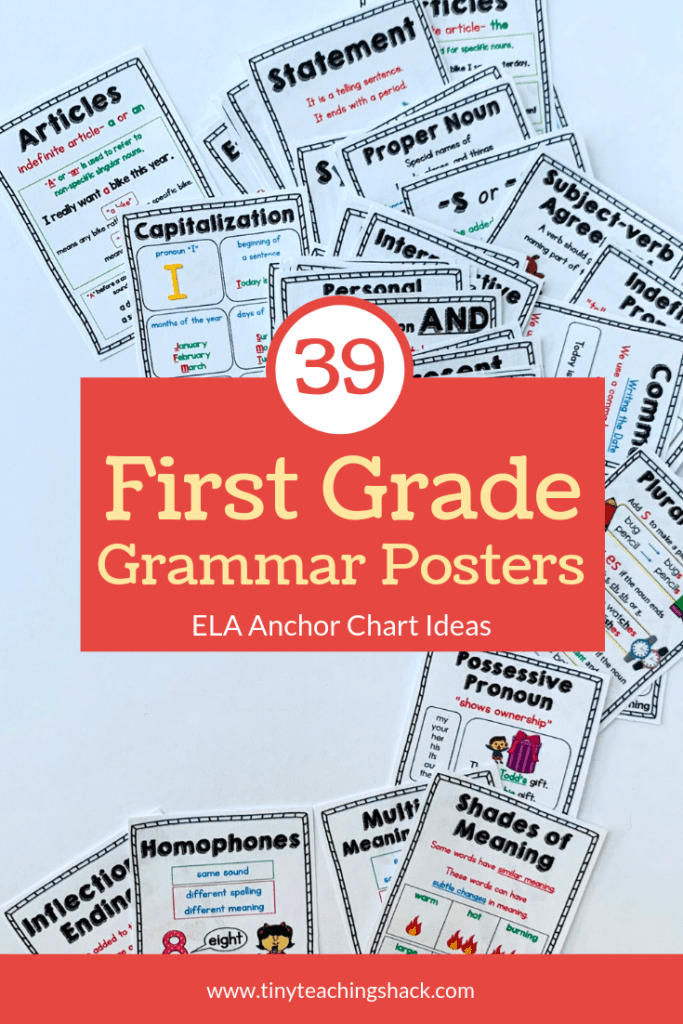 How do I use these resources?
You can use these 1st grade Common Core ELA printables and anchor charts as supplementary tools after giving lessons. Here are just a couple of ideas:
classwork
homework
literacy station
early finishers
assessment
for substitute teacher
quick filler
Organization
I found it easy to organize the entire bundle by dividing them into little sections in a clear file binder. That way, I can take out the pages I need quickly and make copies for my students.
You can also bind the pages into a book for each student, as shown in the picture below.
SAVE by Getting the Bundle
For those of you who want all twenty packets, I have put them into a mega bundle and you can get it at 20% off. My aim was to help create a comprehensive go-to resource when it comes to teaching first graders a subject that could seem daunting or boring to teach to young learners.
Each packet is filled with a variety of 1st grade Common Core ELA pages and the level of difficulty increases throughout the packet. If you have multiple levels in your classroom, you can easily differentiate your lesson using these packets.
Free First Grade Grammar Printables
These are sample pages from the 1st grade Common Core Language Arts No-Prep Printables Bundle. In this freebie, you will find worksheets that focus on common nouns, singular and plural nouns, subject-verb agreement, pronouns, verbs, and types of sentences.

GET THE MEGA BUNDLE

If you find these kid-approved worksheets to be super handy, don't spend another second of your precious evening searching the web or reinventing the wheel: instead, why not go for the bundle, which is jam-packed with more than 350 pages of similar 1st grade Common Core ELA resources? 🙂
Thank you for reading this post! You may also enjoy my post about 1st Grade Grammar Centers.