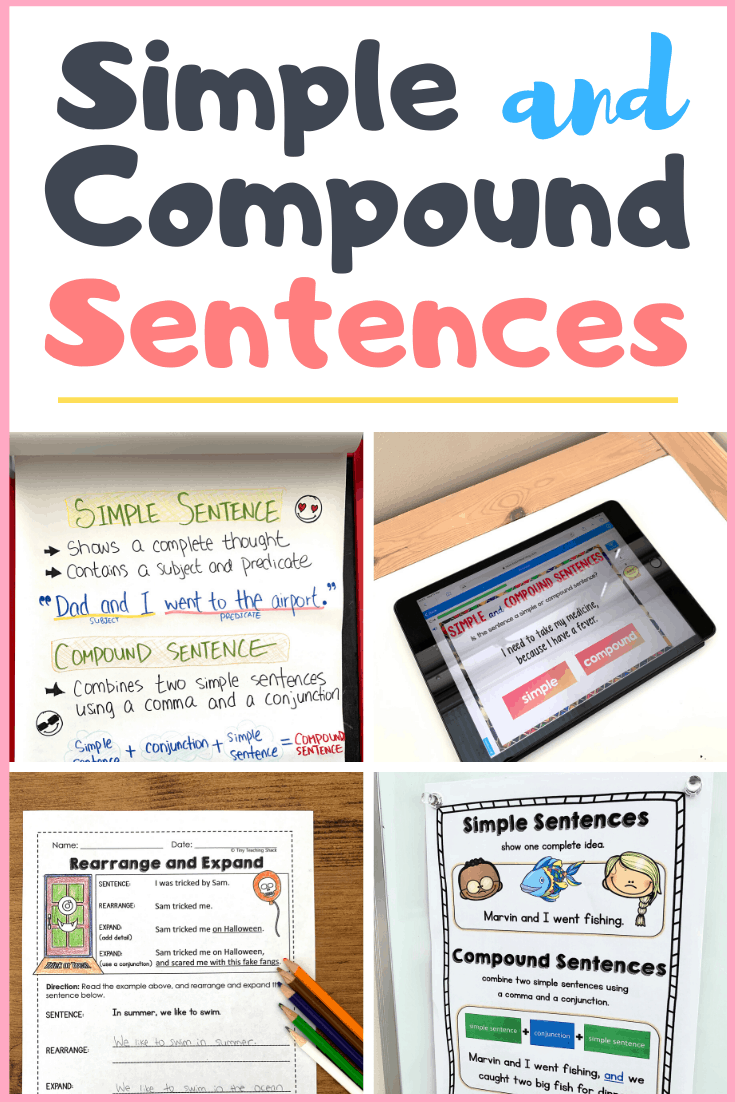 Beginning writers learn to create simple sentences first, but they will soon learn to use compound sentences that make their writing more rich and engaging. So, are you looking for meaningful activities for your students to really understand simple and compound sentences? The following activities were created with the second grade Common Core Language standard in mind, but you may find them useful for first graders as well as ESL students. Higher grades could use these as a review tool, too!
CCSS.ELA.L.2.1.F
Produce, expand, and rearrange complete simple and compound sentences. 
Simple and Compound Sentence Anchor Chart
Who doesn't love an anchor chart? I feel that there's a lot of pressure for teachers to create these perfect Pinterest-worthy anchor charts, but  really, who cares? As long as you are creating something with your students to 'anchor' their learning, your anchor charts are as perfect as they could be. If you are not the type to create one yourself, go ahead and get it printed! Print it large, print it small, place it in a literacy center or have them glue it to their language notebooks. Please share how you would use anchor charts/posters in your class in the comment box below.
Simple and Compound Worksheets
Time for some worksheets. Did I say worksheets?  Elementary school teachers seem to get penalized for using worksheets, but sometimes, they're just plain necessary. It's interesting to see how the word 'worksheet' has evolved in the last decade. Understandably, old school worksheets had more of a negative connotation, and teachers nowadays tend to use different word choices such as activity sheets or printables. For me, as long as worksheets are meaningful, age appropriate, and are used in moderation, they can be used successfully. Again, these worksheets were created to anchor their learning.
Simple and Compound Boom Cards
Time for some exciting things! I fell in love with Boom cards the moment I laid eyes on them. Yes, love at first sight. They are awesome for various reasons:
Kids have fun playing (practicing) important academic skills.
You can track their progress. 
You can differentiate easily by assigning different tasks to different students with just a few clicks of your mouse.
If you'd like to know more about Boom, check out 
this post
.
In the meantime, have a look at the simple and compound Boom cards below. 
It's inevitable that you will be teaching a group of mixed abilities. Some, or many, of your students may not quite get what a compound sentence is because they have not yet mastered what a complete sentence or what conjunctions are. Here are a few exercises that you can use to help your students review and get ready to learn more about creating compound sentences:
Second Grade Grammar Resources